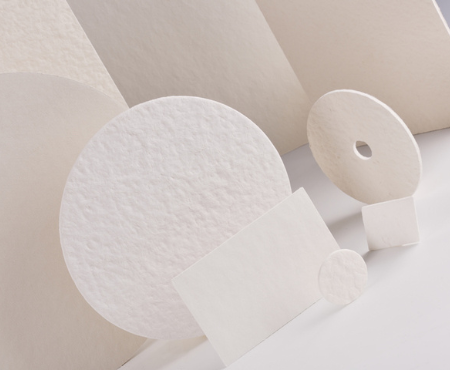 A wide range of lenticular plates and modules


Plate filtration is mainly used in the chemical, pharmaceutical, biotechnological, cosmetic and food industries.
In general, the plate is considered as a three-dimensional depth filter containing absorbents with a large inner surface; especially recommended for the removal of any contagious impurities. Due to its filtering surface, the plate also increases the amount of liquid filtered.
The plates are made of diatomaceous cellulose type raw materials and are totally harmless to human health.
In addition to the standard sizes of 20x20 (cm), 40x40 (cm) and 60x60 (cm), we are able to offer all non-standard sizes, with or without hole, with or without spigot, ...
Type of filter plate grade :
Clarification (pre-filtration from 3 to 25 µm)
Fine filtration (from 1 to 3 µm)
Sterile filtration (less than 1 µm) 
The lenticular module, through which the filtrate flows, is actually immersed in the liquid maintained under pressure. As the plates are attached to the trays, it has the advantage of avoiding any bypass. It is therefore often used to assist in the completion of plate filtration. The module cannot be dismantled and must be replaced once the plates are clogged. This type of filter is highly appreciated for its ease of handling.
Available with different filtration gradients for all your solid-liquid separation needs, the lenticular modules are available in 8", 12" and 16" sizes, with several end cap configurations.
Used in a filter housing, the filtration configuration is perfectly sealed (no leaks, no pollution from the outside environment) and can work under pressure.